Also Remembered As: Chik-fil-A
Actually: Chick-fil-A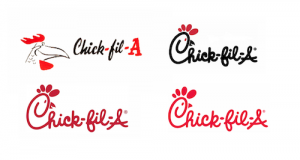 Chick-fil-A is a popular American fast food restaurant chain specializing in chicken sandwiches. The "fil-A" portion of the name is a play on the pronunciation of "fillet". It gained notoriety in the press when it publicly declared it's stance of opposing same-sex marriage.
The first Chick-fil-A opened in 1967 and the name was registered in 1963. The original and official trademark registration from 1968/9 can be viewed online here. Their name has never changed.
The first time I stumbled across this one was on the Subreddit, posted by The_JollyGreenGiant. The post received many replies and many people agreeing with the memory as suggested or with an alternate of memory of "Chik-fil-A". As with many of these posts, there is also a few that remember as it actually is as well. Searching online for "chic-fil-a" will produce many examples of other people who have misspelled the company as well.